Church history album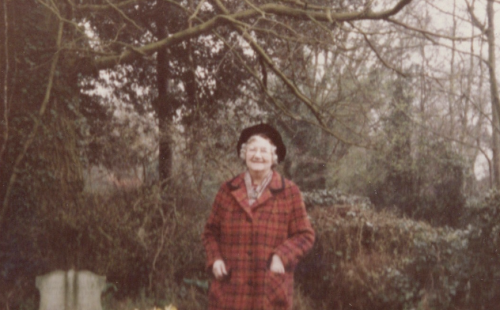 The family of Edna Copping, later Edna Hammond, has very generously provided the village with an album produced over a period of 50 or more years by Edna.
Edna (right) lived with her parents, Harold and Grace Copping, in Windy Nook, Mill Lane. Her father was a signalman with the railway and he is buried in the churchyard.
The album was started in 1933 and is dedicated to her parents. It is beautifully decorated by Edna and she was clearly a very talented artist and calligrapher. Although Edna moved away from the village in the 1950s when she became headmistress of Tuddenham School, she continued to add to the album and visited the Church especially to visit the grave of her father. She died in 1993 in Braintree, but her album is a legacy of her talent and her love for the village.
Visitors to the Church can see another item produced by Edna in 1977, the 'bidding prayer' which hangs in the porch encouraging all visitors to pray whilst there. Do read it when you next visit.
Edna's family remember her with much affection:
She was a very very special person who we were very close to, and all those that knew her loved her too. The kindest soul you could ever meet.
To view the album click on the image below.