Churchyard Memorials
There are over 400 memorials in the Churchyard and in 2012 a member of the Heritage Group, Peter Carter, surveyed all of them and he has produced a burial plan with accompanying details of all the memorials. His excellent survey builds on the work of previous surveys in the 1950s and 1985-86. The burial plan is now hanging in the Church and visitors are encouraged to view it.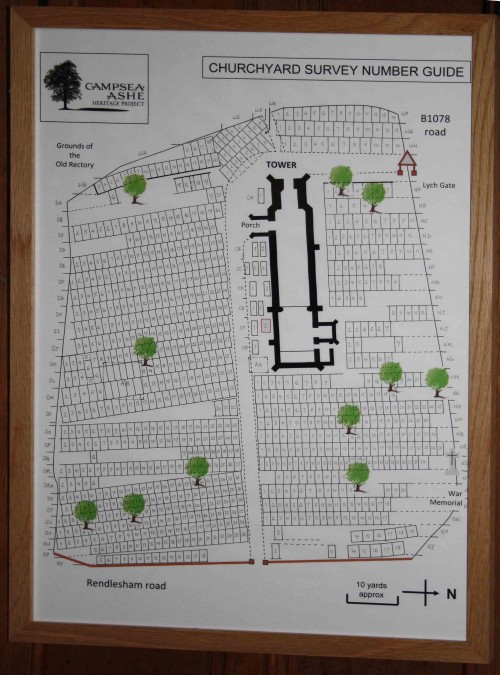 Below is an alphabetical list of the memorials and in tribute to those who have passed away. Photos of many of the memorials are available on http://www.gravestonephotos.com/index.php.
Inevitably there may be errors in this list and if so we apologise. If you spot any errors or omissions please let us know - use the contact form below.
Surname
First name
Date of burial
Age
Photo
Biography and Tribute
Alden
Hannah
1869
69
Go
Alden
Thomas
1881
87
Algar
John
1896
63
Go
Go
Algar
William
1881
19
Go
Allen
Dudley Attwood Kingdon (Rev)
1952
69
Go
Alper
Mabel Cecily James
1949
Go
Daughter of William and Alice Lowther
Anderson
Heather Mary Margaret
2016
77
Archer
M…. Harriet
1841?
B….
(JB)
1905
B….
(MB)
1905
B….
S….
1799
Bacon
Ruth Alma
2015
88
Bagg
William
1939
65
Go
Go
Baker
Evelyn Isabelle
1952
58
Go
Go
Baker
Gerrard Wollaston
1968
78
Baker
John Graham Streatfield
1975
75
Go
Go
Baker
Margaret Audrey
1993
85
Bantoft
Jack
1952
57
Go
Husband of Miriam
Bantoft
Miriam Charlotte
1979
88
Go
Wife of Jack
Barker
Charles
1906
52
Go
Go


Barker
Pamela
1934
88
Barnes
George Henry Alfred
2014
93
Barnes
Rene Florence May
1986
62
Go
Barthrop
Elizabeth
1778
Go
Battle
Brother
Battle
Husband
Battle
Wife
Baxter
Dot (Dorothy Viginia)
1993
Baxter
Jim (James)
1960
Beeden
Sarah
1857
60
Go
Go
Beedon
Jonathan
1816
51
Go
Beedon
Thomas
1815
69
1746 - 1815
Beedon
William
1800
18
Go
Bell
Edith
1995
81
Go
Benham
George
1902
65
Go
Go





Benham
George
1949

86

Go
Benham
James
1886
52
Go
Benham
Rachel
1906
55
Go
Benham
Thirza
1960
90
Go
Bentley
Bernard
Bentley
Dorothy
Go
Bentley
Stanley
Go
Bloomfield
Frederick Samuel
1958
76
Go
Bloomfield
Lilian Sabina
Bloomfield
William Greenham
1944
59
Go
Bloomfield
William Greenham
1898
40
Go
Blumfield
Thomas
1784
0
Go
Borrett
Amelia
1942
80
Go
Go
Borrett
Ephraim
1947
84
Bowyer
Edmund
1976
86
Bowyer
Florence Louise
1969
83
Brain
Christopher Seth
2011
73
Go
Bretton
Elizabeth
1831
Bridges
Arthur George
1930
56
Go
Husband of Violet
Bridges
Charles
1907
78
Go
Husband of Susanna
Bridges
Lucy Violet
1954
41
Go
Bridges
Susannah
1905
75
Go
Wife of Charles
Bridges
Wesley
1901
39
Go
Son of Charles and Susanna
Brook
Egidia
1880
Lady Rendlesham
Brook
Frederick William
1911
Go
Lord Rendlesham, Patron of the Church
Brumwell
Ruby
1950
73
Go
Buried along with her husband, Walter, just outside the main entrance to the Church.
Brumwell
Walter
1949
71
Go
Lived at White House and was a Churchwarden.
Buckels
Hannah
1890
Buckels
Samuel
1888
Go
Buckels
Samuel
Go
Buckle
Chorazza' Gertrude Amelia
Buckledee
David Charles
2005
51
Go
Buckles
John
1894
Buckles
Sarah
1883
Burt
Peggy
1998
72
Wife of Roland (Roly)
Burt
Roland
1999
76
Lived in Stone Cottage
Butcher
Edward
1817
Butcher
George
Buxton
(Maggie)
Buxton
Anna
1938
Buxton
Harold
1978
44
Go
Known as 'Mr Chippy'
Cable
Henry
1927
Lived at Mission Cottage and ran the village Post Office
Cable
Naomi
1928
Married to Henry and also ran the Post Office
Cadman
Alfred
87
Father of Andrew, he lived for a while at The Old Rectory as caretakers and then at Cornerways
Cadman
Andrew Charles
2014
67
Husband of Linda. Churchwarden
Cadman
Linda
2018
70
Wife of Andrew
Cadman
Marjorie
Wife of Alfred
Cairns
Margaret
1939
Cairns
Nadine
Cairns
William
1948
Calvert
Alice
1904
Go
Campbell-Preston
Margaret
2020
100
née Graham, wife of Thomas
Campbell-Preston
Thomas
1999
81
Go
Husband of Margaret
Chandler
Hannah
1767
Chandler
Nathaniel
1779
Chapman
Elizabeth
Chapman
Harold
1951
Chapman
John Harold
2014
74
Chapman
Ruth
2003
Chapman
Thomas
Chatfield
Emma Elizabeth
1980
Chatfield
Ira
1944
52
Go
Chichester
Kathleen Mary
1966
89
Go
Born in Wexford, Ireland, sister of Sheelah Reade
Child?
1767
Chilvers
Adrian Alexander
2016
75
Chilvers
Norrie
1987
81
Go
Wife of Sidney
Chilvers
Patricia Ann
1987
43
Go
Chilvers
Sidney Sutton
1982
84
Go
Husband of Norrie
Clark
Emma
1959
77
Wife of Thomas
Clark
Isaac
1850
Clark
Thomas J
1955
72
Ran Post Office, husband of Emma
Clarke
Mary
1867
Clarkson
Sarah Ann
1886
56
Go
Late of Playford Hall, probably blind
Clow
Anna
1961
Clow
Edward
1914
Clow
Edward
1950
Coates
Ian James
2017
75
Coates
George William
1972
Coates
Lottie
1954
Cook
Gladys
1989
Cook
John
188?
Cook
Reuben
1976
Cook
Walter Edward
1976
70
Copping
Harold J
1948
64
Go
Cowell
Gervaise (MBE)
2000
73
Go
Diplomat employed by British Secret Intelligence Service
Cowell
Pamela Ellen
2000
75
Go
Wife of Gervase and also employed by Secret Intelligence Service
Cracknell
Henry
1989
Crawford
Walter William
2018
43
Crickmay
Alice Edith
1997
Crickmay
Arthur
1999
84
Go
Major Arthur Crickmay - The Crickmay family lived on the corner opposite Hell Fire Corner
Crickmay
Geoffrey
Crickmay
Peggy
1991
65
Go
Arthur's wife
Crickmay
Mildred
Crowfoot
Frederick William
1980
58
Go
Husband of Marjorie
Crowfoot
Marjorie Olive
2004
71
Go
Wife of Frederick
Cullen
Violet
Culling
William Mayes
1948
Culpeck
Emily
1994
98
Go
Daughter of Frederick
Culpeck
Frederick
1957
89
Married to Julia
Culpeck
Julia
1955
86
Wife of Frederick
Dale
Annie
1891
46
Go
Late of Rendlesham Hall
Dix
Edna May
Dobbins
George
1947
Driver
Iris
1940
Killed by a bomb in WWII
Ducker
Edith Mary
1990
Ducker
Samuel
Fish
3 infants
Go
All children of George and Charlotte Fish
Fish
Eliza
1878
Go
Fish
George
1880
86
Go
Fish
Lewis Valentine
1857
Go
Fothergill
Mary
1832
Foyster
Lionel Algernon, Rev
1945
67
Go
Go
Frost
Charles
1985
77
Go
Frost
Keith
2009
68
Go
Frost
Keven
1999
54
Go
Worked at Bridge Farm for Hayward family
Frost
Phyllis
1985
74
Go
Fulcher
Isaac Owen
Fulcher
Madeline
2000
86
Go
Fulcher
Mary Ann
1947
85
Go
Wife of Isaac Fulcher and former wife of William Bloomfield
Fulcher
Sarah
Gates
Mabel
Gibbs
Walter
1897
30
Go
Son of William and Mary
Gibbs
William
1881
Gibson
Nellie
1964
82
Go
Gilbert
Henry
1900
Glanfield
Chapman
Glanfield
Elizabeth
1765
Glanfield
Mary
1765
13
Glanfield
Susan ?
1700
Glanfield
Thomas
1764
Glanfield
Thomas
Goddard
Brenda
1993
56
Go
Goddard
John
1953
Goddard
Mary
1919
Goddard
Violet May
1988
87
Go
Wife of William
Goddard
William George
1984
81
Go
Husband of Violet
Gooding
John
1733
Goodwin
Brenda Joan
2014
91
Goodwyn
?
1831
Goodwyn
?
Goodwyn
Ellen
1872
Go
Goodwyn
John
1859
Goodwyn
Maria
1874
Goodwyn
Mary
1870
69
Go
Gordon
Glynis R
Go
Goudy
Jack Robert
2006
Gould
Barry
2015
72
Go
Bell ringer and husband of Brenda
Gould
Brenda
2020
75
Long time Churchwarden and husband of Barry
Graham
Alistair Mungo
1976
90
Go
Lord Graham
Graham
Ian James Alastair
2017
93
Graham
Meriel
1936
42
First wife of Lord Graham
Graham
Sheelah Violet Edgeworth
1985
81
Go

Second wife of Lord Graham
Greenfell
Eileen
1977 ?
Grey
Hannah
1858
75
Go

Second wife of Nathaniel
Grey
Nathaniel
1842
85
Go

Agricultural labourer
Haddock
Richard
1849
37
Go
A servant, husband of Rachel (née Lowe)
Hammond
Henrietta
1978
92
Go
Wife of William
Hammond
William John
1953
60
Go
Husband of Henrietta
Hayward
Alex
1980
Lived at Ashmoor Hall. Married to Molly
Hayward
Oliver Guy Hutton
2001
16 mths
Go
Sadly died at just 16 months old
Hazell
Alice Maud
1987
Hazell
Leslie
1950
Hembling
Derek
2017
85
Hembling
Elsie
1987
Hembling
Elsie May
2002
66
Go
Elsie was married to Derek. Lived in Mill Lane. Worked at The Old Rectory.
Hembling
John
2005
Hembling
Maurice
2019
84
Hembling
Reginald
1975
79
Hewitt
Thomas
1969
Hines
John William
2016
82
Hodgson
Christopher
1906
Rector at Campsea Ashe 1891 to 1906
Hodgson
Isabella
1908
Hoey
Kevin Peter
1983
Fiance of Sara Hayward, he died with his friend Jonny Western - in January - after they drowned (at night) on the River Deben.
Horrex
Jessie
Howe
Jean Mary
2010
77
Go
Wife of Arnold
Howe
Arnold William Ashbee
2010
83
Go
Husband of Jean
Hunter
Dudley
1986
Hunter
Rose
Hurren
Marie
1974
Ives
Leslie Charles
2014
95
Ives
Hilda Margaret
1987
64
Jacobs
Jessie
1940
James
Mary Ann
1898
Go
Wife of William
James
William
1900
Go
Husband of Mary Ann
Jaye
Samuel
1868
65
Go
Lived at the Green Farm
Jones
Betty
2010
81
Go
Wife of David Wynne Jones
Kemp
Alice
1985
79
Go
Wife of George
Kemp
Alice Elvina
1955
73
Go
Wife of Charles
Kemp
Charles
1954
77
Go
Husband of Alice
Kemp
Elizabeth
Kemp
George
1969
63
Go
Husband of Alice
Kemp
Gladys M A
2003
93
Go
Wife of Arthur
Kerridge
Elizabeth
1868
22
Go
Knights
Desiree
1934
Knights
James
1887
74
Go
Lankester
Frances Ada
1958
77
Go
Wife of William
Lankester
William
Go
Husband of Frances
Larrett
Hannah
1866
Larrett
James
1811
Larrett
James
Larrett
Jemima
1852
Larrett
Mary
1866
Larrett
Mary
1886
Larrett
Sarah
1844
Larrett
Sophia
1881
Larrett
William
1872
Leeder
Kate Mary
1933
56
Go
Daughter of William and Laura Leeder
Ling
Edith Helen
1979
Go
Wife of George
Ling
Emma
1929
93
Go
Wife of James
Ling
Frederick
Ling
George
1967
93
Go
Husband of Edith
Ling
James
1910
77
Go
Husband of Emma
Ling
Lear
Ling
Mary
1910
Ling
Sandra Ann
1980
20
Go
Ling
William
1949
Lowther
Alice
1908
Go
Mother of James Lowther, wife of William
Lowther
Alice
1939
66
Go
Wife of Gerard
Lowther
Arthur James
1967
Go
Lowther
Christopher
1933
Lowther
Gerard
1916
Go
Lowther
Harold Arthur
1929
65
Go
Son of William and Alice
Lowther
James William
1949
94
Go
Speaker at The House of Commons
Lowther
John Arthur
1942
31
Go
Husband of Priscilla
Lowther
Mary Frances
1944
Lowther
Priscilla
1945
27
Go
Wife of John Arthur
Lowther
William
1912
Go
Husband of alice, father of James Lowther
Maggs
Jessie Violet Maude
1965
71
Go
Go
Mair
Emily
Go
Martin
Audrey Mary
2004
72
Go
Wife of Frederick
Martin
Frederick
1976
52
Go
Husband of Audrey
Martin
Janet
1961
1
Go
Daughter of Frederick and Audrey
Mattin
Bertie
1978
80
Son of Mary and William
Mattin
George
1910
Mattin
John
1903
Go
Mattin
Lydia
1900
Mattin
Mary
1961
98
Mother of Bertie
Mattin
William
1914
41
Husband of Mary
Maulden
Eileen Grenfell
1977
85
Go
Mother of Edmund, wife of Philip George Mauldon
Maulden
Edmund Philip
1928
8
Go
Son of Eileen
May
?
1879
May
Elsie Emma
1972
McDowall
2012
92
McDowell
Shirley M R
Melton
John
1968
72
Go
Melton
Anna Jane
1991
87
Melton
Robert John
1974
42
Go
Mepham
George
1950
Morgan
Christopher Robert Henry Peter
2014
88
Morris
Isabella
Mowson
Annie
1949
Mowson
Mabel
1952
Mowson
Mary Ann
1912
Go
Wife of William
Mowson
Thomas
1949
Mowson
William
1897
73
Go
Husband of Mary Ann
Mowson
William Thomas
1888
Go
Moyes
Sidney (Lummy)
2006
99
Mugleston
Cyril
1963
Mugleston
Daisy
1982
Mugleston
Gertrude
1988
Go
Mugleston
Isaiah
1942
81
Go
Mugleston
Leonard
1946
62
Go
Mugleston
Louisa
1961
Go
Mugleston
May
1954
Go
Nanton
Ruth
1766
Nash
Marjorie
1995
Nash
Ronald
1969
Nash
Tom
1979
Newman
Albert Victor
1991
75
Go
Husband of Rosemary
Newman
Philip
1958
Newman
Phyllis Louise
1965
68
Go
Wife of William
Newman
Rosemary
2019
84
Go
Newman
William
1951
50
Go
Husband of Phyllis
Newman
William
1965
Newson
Elizabeth
1914
76
Husband and wife. Lived at 4 Railway Terrace. Henry was a railway porter.
Newson
Henry
1906
70
Norfolk
Emma
Norfolk
Robert
Norton
Sarah
1987
Orford
Charlotte
1955
Orford
Mabel
1951
Orford
Thomas
1941
Osborne
Agnes
2012
92
Go
Known as Aggie
Osborne
Charles
1989
Osborne
Jacqueline
1992
44
Go
Jackie lived on the main road with husband Ted. She worked for Pat Hayward
Osborne
Ted (Edward)
2001
52
Go
Husband of Jackie, he worked for Tony Hayward
Oxborrow
Betty
2004
81
Go
Lived at The Smithy, wife of Reg
Oxborrow
Marion M
2012
Go
Sister of Reg
Oxborrow
Reginald
2011
87
Go
Lived at the Smithy, husband of Betty
Oxborrow
Roland
1971
86
Go
Parents of Marion and Reginald
Oxborrow
Victoria
1972
86
Parrott
Shannon Louise
2007
7 days
Go
Paternoster
Mary
1813
Paternoster
Samuel
1851
Paternoster
Sarah
1863
Paternoster
Thomas
1813
Paternoster
Walter
1962
Paternoster
William
1864
Paternoster
William
1879
Peck
George
1947
Peck
Harold
1925
Peck
Mildred
1951
Peek
Hilda May
1951
56
Go
Wife of William
Peek
William Arthur
1975
85
Go
Husband of Hilda
Peters
Norbet Otis
2007
57
Go
Obituary
Phillips
Elizabeth
1938
Philpot
Joseph
Plant
Cyril
2004
87
Go
Cyril and Hilda lived just past the Rectory on the left in the first cottage on the left
Plant
Hilda
2007
88
Go
Wife of Cyril
Pottle
Denis Peter
1991
Pottle
Kate Alexandra
1985
Pottle
Roland Walter
1960
Pratt
Kathleen Emma
1988
72
Go
Wife of Sidney
Pratt
Sidney Philip
2000
80
Go
Sid Pratt worked for the High House and was a brilliant gardener
Prevett
D Leslie
1985
71
Go
Husband of Hilda
Prevett
Hilda Edith
1986
79
Go
Wife of Leslie
Rackham
……
1807
Rackham
E….
1830
Rackham
Jermina
1869
Rackham
John
1797
Rackham
Mary
1830
Rackham
Mary
Rackham
Philip
1801
Rackham
Philip
1864
Rampley
Violet
1990
Reade
Arthur
1971
Reade
Diana
1938
Infant
Go
Reade
Ethel Violet
1933
77
Go
Reade
Evelyn
1920
61
Go
Reade
Francis Zan
1950
14 months
Reade
Julia
1934
79
Go
Reade
William
1900
77
Go
Riches
James Edward
1953
Riches
Louisa
1934
Rogers
Henry
1927
Rogers
Infant daughter
1889
Rogers
Thomas William
Rolfe
Michael George
2013
72
Saunders
George
1872
Saunders
George
1915
Go
Husband of Sarah
Saunders
Sarah Ann
1935
Go
Wife of Sarah
Sawyer
Agnes
1936
78
Husband and wife. They lived at No 4 Railway Terrace. He was a signalman
Sawyer
George
1938
83
Sawyer
Maud
1936
Sawyer
Samuel
1867
74
Go
Husband of Sophia
Sawyer
Sophia
1896
74
Go
Wife of Samuel and buried with him
Sawyer
William
1971
Sayer
Mary Ann
Scarce
Frederick
1992
92
Go
Husband of Mabel
Scarce
Mabel Mary
1989
81
Go
Wife of Frederick
Self
Edward
1860
Go
Husband of Susan
Self
Susan
1866
Go
Wife of Edward
Sharpe
Arthur C E
Go
Arthur Sharpe lived in Mill Lane with his wife Barbara. He worked for Mr Hayward at Bridge Farm
Sharpe
Charles
1959
Sharpe
Maurice Frederick
1992
61
Sharpe
Robert Winston
2017
74
Go
Sharpe
Trevor N
Go
Sheppard
Various
pre 19th C
17 coffins buried in a vault in the Church
Skeet
Arthur
1960
Skeet
Winifred
1972
Skipper
Ivy
1966
73
Go
Wife of Wilfred
Skipper
Mary
1983
Skipper
Ray
1982
Skipper
Wilfred
1948
60
Go
Husband of Ivy
Skull
Cyril
1992
94
Go
Husband of Grace
Skull
Grace Mary
2008
90
Go
Wife of Cyril
Smith
Alfred
1878
53
Go
Husband of Susan
Smith
Beatrice
1983
Smith
Edna
1873
Smith
Peggy Violet Elizabeth
2012
84
Smith
Thomas
Smith
Walter
1970
Smth
Susan
1896
72
Go
Wife of Alfred
Somerville
James
1954
86
Go
Husband of Mary
Somervile
James Ralph
1972
61
Go
Probably son of James and Mary
Somerville
Mary
1927
56
Go
Wife of James
T….
Susannah
1826
Tarbard
Alfred
1990
92
Go
Husband of Phyllis
Tarbard
Phyllis May
1992
90
Go
Wife of Alfred
Thompson
Percy
Trumpeter
Trumpeter
Turner
Nancy Hope
1988
Go
Turner
William Frederick
1982
69
Go
Of Ashgreen Farm
Vince
Elizabeth
1879
W…
Sarah
W….
W….
1760?
Wade
Sarah
1766
Go
Wailing
David C
1952
12 days old
Go
Walker
Maria
1908
Walker
Robert
1917
Wallis
Annie
1884
17
Go
Daughter of Henry & Harriet
Wardley
Elsie
1988
88
Go
Wife of John
Wardley
John
1907
Wardley
John
1989
90
Go
Husband of Elsie
Wardley
Sarah
1892
Warne
Alice
Warne
Anna
1901
61
Go
Wife of George
Warne
George
1913
75
Go
Husband of Anna, The Talbot publican
Warne
George
Warne
Kate May
1960
Warne
Rose Jane
Warre
John Downing
1950
Watson
Ernest
1968
Watson
Margaret
1967
Wells
Agnes Mary
1852
West
Mary
1779
West
Samuel
1770
Wetenall
Elizabeth
1867
Wetenall
Joseph
1812
Whatley
David C
1952
12 days old
Whatling
Elizabeth
1963
Whatling
Frederick
Whatling
Samuel
1962
Whiting
Jack
1986
Whymark
Kathleen Blanche
1950
65
Husband and wife living at Railway Terrace. William married a second time in 1951 to Florence May Mepham
Whymark
William George
1963
77
Wilson
Alice
Wilson
Cecil
Wincup ?
Ann
1827
Woolnough
George
1940
George and Hannah lived in The Pit and ran a shop.
Woolnough
Hannah
1946
Wife of George
Woolnough
John
1781
Woolnough
John
1781
Woolnough
Mary
1760
Wordley
Ada Emma
1968
Go
Wordley
Frank Holbrow
1946
Go