Plane crashes 1945
There were at least two plane crashes in Campsea Ashe during 1945, both involving USAAF Mustang planes. The first was on 9th June 1945 and occured at the end of a training flight when the aircraft, piloted by Flight Officer Wright, crashed at Hell Corner. According to the Aviation Archaeoligists Association:
"A/C involved in mock combat with USAAF P-51 Mustangs over sea. Pilot dived towards base (Bentwaters). At 300 -350 ft rear fuselage fractured, tail unit started to bereak off Pilot thrown clear into small trees and bushes - slightly injured. A/C crashed at "Hell Corner" completely wrecked. Debris in trees. Spiral dive. Adjacent to LNER station."
It appears the pilot survived the accident. The pilot of the second crash, on 20th July 1945, was less fortunate and he was killed. The crash occured in the Blackstock area and the pilot was 1st Lt Richard J Stone who had been involved in an earlier accident when landing at Martlesham on 6th February 1945. The fatal accident is again desribed by the Aviation Archaeoligists Association:
"A/C crashed in flames into a 12 acre barley field on edge of Blackstock Woods, 100 yards from Signal Box on LNER line level crossing. A/C exploded on impact. Almost no trace of pilot found. Pieces of wreckage in trees"
Richard Stone originally came from Connecticutt USA and he is buried in the American Cemetery in Cambridge (Plot F-3-23). His name is recorded on the War Memorial at Martlesham Heath.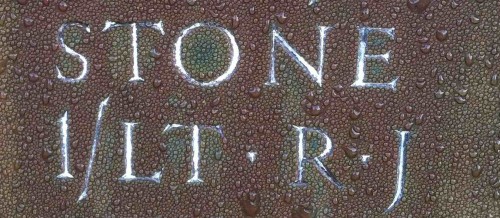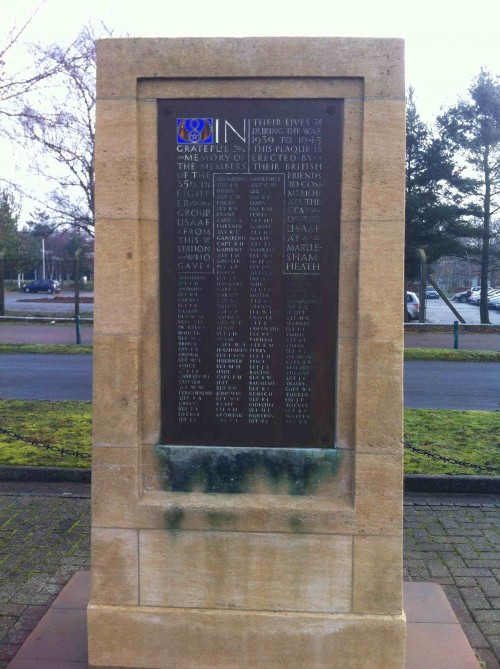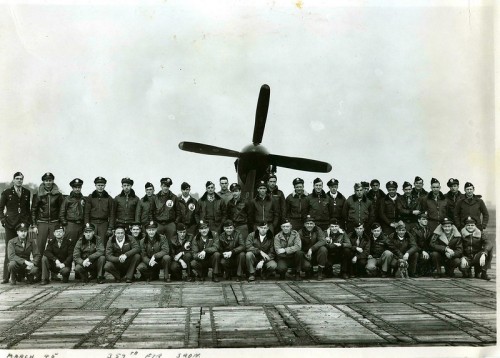 Photo of 359th FS taken in 1945. Richard J Stone may be amongst the airmen.