Roll of Honour World War II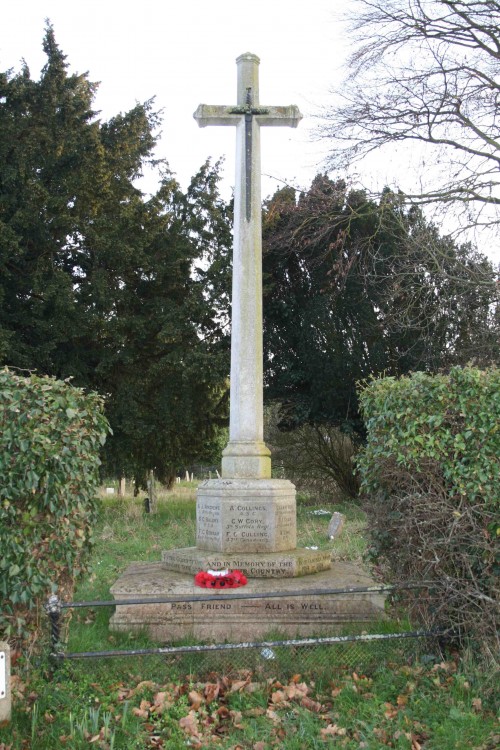 In memory of the people of Campsea Ashe who gave their lives for their country.
1939 - 1945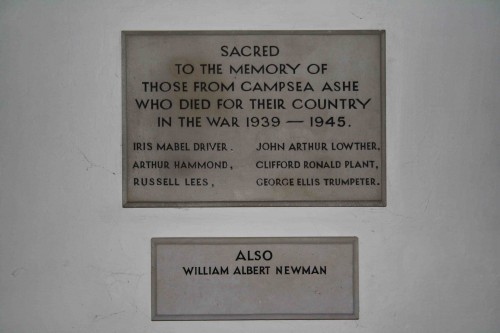 Click on blue links for more information
Civilian. Died 21/11/1940. Age 25. Of Ash Corner, Campsea Ashe. Daughter of Arthur Cook of the same address and of the late Mary Ann Elizabeth Cook. wife of P. Driver (H.M. Forces). Died at 2 Railway Terrace Cottage, Campsea Ashe as a direct result of a bomb that damaged the Terrace.
Driver T/181673, Royal Army Service Coprs. Died 28/03/1941. Age 29. Son of Arthur Robert and Mabel Blanche Hammond of Enfield. Buried at Phaleron War Cemetery, Athens
Gunner 942061, Royal Artillery. Died 29/12/1943. Age 25. Buried at Chittagong War Cemetery
John Arthur Lowther
MVO. Lieutenant, Royal Naval Volunteer Reserve – HMS President. Died 25/08/1942. Age 32. Son of the Hon Christopher William Lowther and of Ina Marjorie Gwendolen Lowther O.B.E. (nee Pelly). husband of Priscilla Lowther (nee Lambert). grandson of the Right Hon James William Lowther, 1st Viscount Ullswater of Campsea Ashe. Buried at Campsea Ashe (St John the Baptist) Churchyard. HMS President is the HQ vessel of the RNVR. On 25th August 1942, Lieutenant Lowther was travelling with Prince George, Duke of Kent from Invergordon to Reykjavik in a Sunderland when in poor weather conditions the plane crashed into an outcrop of rock known as the Eagles Rock on the Caithness coast. Only one member of the flying crew survived
William Albert Newman
Royal Engineers. Died 3rd Quarter 1951. Age 56. Resident of Campsea Ashe. Buried at Campsea Ashe (St John the Baptist) Churchyard. A special plaque attached to the role of honour commemorates William Newman, who died in 1951 "as a result of war wounds". William Newman served with the Royal Engineers in both the Great War and the Second World War
Corporal 14216536, 7th Battalion, Parachute Regiment, Army Air Corps. Died 07/04/1945. Age 20. Son of Agnes Mary Plant of Woodbridge. Buried at Becklingen War Cemetery. Corporal Plant is also commemorated on the Blaxhall War Memorial
Private 5827067, 4th Battalion, Suffolk Regiment. Died 12/10/1943. Age 25. Buried at Thanbyuzayat War Cemetery
(Notes in italics taken from http://www.roll-of-honour.com/Suffolk/CampseyAsh.html)