Roll of Honour World War I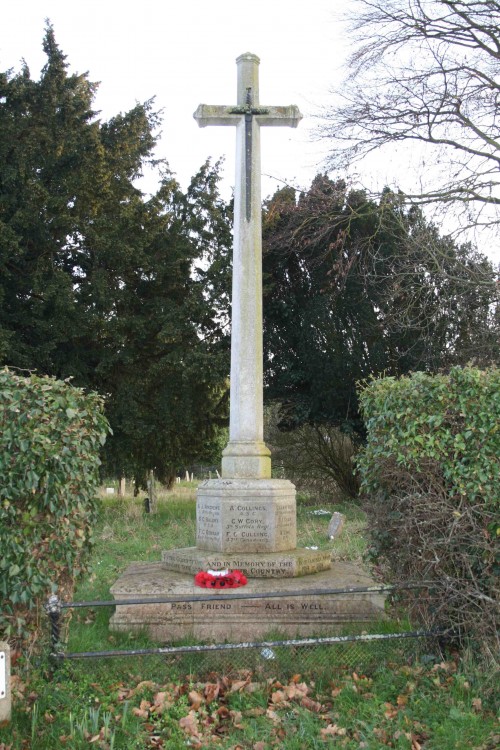 In memory of the people of Campsea Ashe who gave their lives for their country. For brief details of each person please click here.
For more details of individuals click on blue links below
To listen to the Military Voices 1914 Carol of Christmas click on the icon below.
1914 - 1918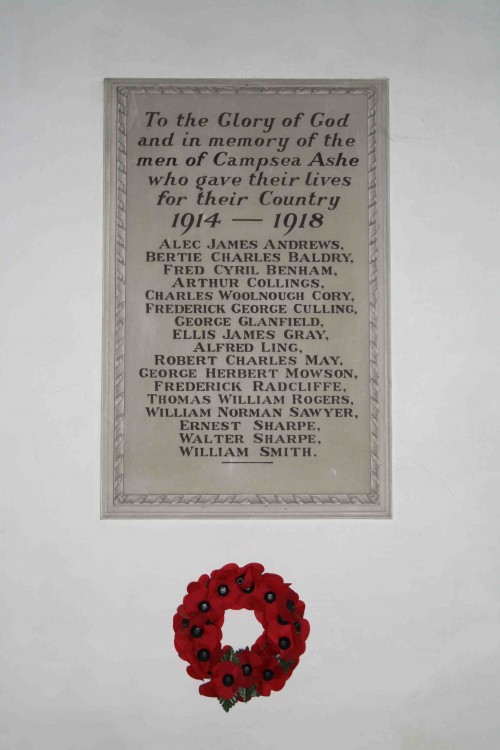 Memorial tablet in the Church, believed to have been erected in 1920
Click on blue links to read biographies or listen to the audio files
| | | | | |
| --- | --- | --- | --- | --- |
| Date killed | Name | Age | Memorial | Audio file |
| 16 May 1915 | Louis Archibald Jarvis | 23 | Rue de Bois, France | |
| 12 August 1915 | Charles Woolnough Cory | 27 | Gallipoli | |
| 4 December 1915 | Robert Charles May | 21 | Lemnos, Greece | |
| 3 July 1916 | Ernest Sharpe | 23 | Thiepval, France | |
| 7 October 1916 | George Herbert Mowson | 38 | Somme, France | |
| 13 November 1916 | Walter Sharpe | 38 | Courcelles-au-Bois, France | |
| 14 January 1917 | Frederick George Culling | 25 | Etaples, France | |
| 19 March 1917 | Fred Cyril Benham | 19 | Barlin | |
| 10 April 1917 | Frederick Radcliffe | 24 | Arras, France | |
| 11 April 1917 | William Smith | 25 | Arras, France | |
| 26 July 1917 | George Glanfield | 37 | Pas de Calais, France | |
| 16 August 1917 | Ellis James Gray | 29 | Belgium | |
| 2 December 1917 | William Norman Sawyer | 21 | Cambrai, Louverval | |
| 19 January 1918 | Alfred Ling | 21 | Chatham Naval Memorial | |
| 23 April 1918 | Bertie Charles Baldry | 25 | Haringhe, Belgium | |
| 5 July 1918 | Alec James Andrews | 20 | Pas de Calais, France | |
| 11 October 1918 | Thomas William Rogers | 30 | Pas de Calais, France | |
| 18 December 1918 | Arthur Collings | 29 | Charleroi | |